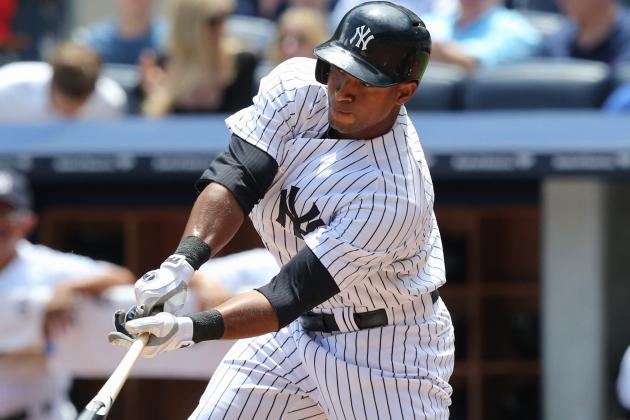 By: Gavin Ewbank | Lead Writer
With a runner on first base in the bottom of the 9th,
Zoilo Almonte
clubbed a long two-run homerun to right field off of
Jose Ortega
to the game at 7-7, completing the Yankees comeback in a game they would tie with the Detroit Tiger, 7-7, Wednesday afternoon at The Boss in Tampa.
Hiroki Kuroda
got the call of the Yankees, and was hit hard right from the start. He gave up back-to-back singles to start the game;
Ian Kinsler
scored on the second single by
Don Kelly
when
Carlos Beltran
's throw from right field short-hopped past
Kelly Johnson
at third base.
That wasn't the end, because Kuroda would end up allowing three more runs in the innings.
A sac-fly by
Victor Martinez
brought home Kelly from third, then a few batters later with a pair of runners on base,
Nick Castellanos
hit a flyball to right-center field that dropped between Beltran and center fielder
Mason Williams
, making it a 4-0 game.
Heis control was one of his biggest problems. He was leaving a lot of pitches up in the zone during the first inning, giving up a lot of hard hits. He gave up a total of six runs on 10 hits in 3.1 innings.
The Tigers added two more runs off of Kuroda in the 3rd inning on a one-out double by
Trevor Crowe
.
If there was one high note on the day it was
Francisco Cervelli
, who really helped his trade value a little bit by hitting a pair of homeruns, both solo shots, for his 2nd and 3rd homeruns of the spring.
Cervelli, who has been drawing quite a bit of interest from teams this spring, has been playing very well over the plat couple of weeks, and it would take a lot at this point for him to not be the Yankees' backup catcher on Opening Day.
The Yankees began their late comeback in the 8th inning, scoring three runs to bring them within one run.
Almonte,
Yangervis Solarte
and
Adonis Garcia
all collected one-out hits to load the bases, then
John Ryan
Murphy groundout to score Almonte while making the second out of the inning ahead of
Zelous Wheeler
, who would hit a ground-rule double down the left field line to bring in two more runs.
Kuroda was not very good today, but the Yankees' bullpen was, combining for 4.1 scoreless innings from
Shawn Kelley
,
Jose Campos
,
Fred Lewis
,
Danny Burawa
and
Chase Whitley
before
Robert Coello
gave up a run in the 9th inning.
The Yankees will have their first split-squad games of the spring tomorrow, with
Michael Pineda
in Tampa to face the Baltimore Orioles as he makes his first start of the spring, and
Ivan Nova
will go on the road to Clearwater to face the Philadelphia Phillies.
Both games will start at 1:05pm ET and the game against the Orioles can be seen on YES, and the Phillies matchup will be on MLB.TV.
Follow @GavinEwbank